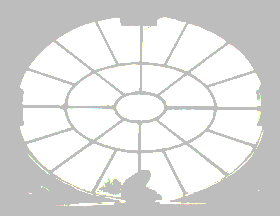 Corby Glen Project
Sarah Needham
An exploration of the sense of place in Corby Glen and the Lincolnshire landscape, through materials and psycho-geography, expressed in abstract painting, photography, audio recording and interactive installation.
"There is a sense in which I believe that the materials of a place impact on the lives lived there. This project is an exploration of what it is to be a stranger, an observer standing on the edge of a community and responding to it.
My starting and finishing point has been a series of repeated walks taken at irregular intervals during a period of two years, random days when I would wander round the edges of the village photographing what caught my eye. A selection of these images and a loop of images on screen form the first room of the exhibition. .
The next part of getting to know Corby Glen was recording the memories of local residents. It was my pleasure to sit in the library at Corby Glen both recording and listening. The recordings form the sound part of the installation in the final room.
While walking and while sitting in the library I was able to learn about the material nature of the environment, to learn the special relationship the area has with wool, wood, chalk, wheat, milk, rust. These factors together inform my paintings in the second room of the exhibition.
Downstairs in the Library there is an exhibition of pictures made by the children of Corby Glen using the same materials that were used to paint the saints and angels made to look like Corby Glen shepherds on the church walls in the Middle Ages. The parents and carers are shown to be the new 'saints' and 'angels' of Corby Glen as depicted by the children.
It has been my pleasure in getting to know this village, the landscape and people who have been very open and friendly. I feel quite privileged to have been invited in."