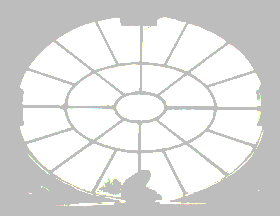 John Crampin is Lincolnshire-based sculptor who uses locally-sourced stone to create his beautiful organic and abstract pieces. John's favoured media are durable Ancaster limestone, Portland limestone, Cornish soapstone and alabaster. He also models works in clay and then casts in resin or bronze.
Abstract works draw on John's experience as a mathematician where line, surface, balance and symmetry are fundamental. The shapes and profiles used are allowed to adjust their form as the creation of individual pieces progresses. The result is harmonic and tactile sculptures with a deceptive simplicity.
Lyn Lovitt has spent all her life working with clay. She studied at The Central School of Art and Design (now Central St. Martins) London, worked in potteries in London and then in her own studio in Lincolnshire.
Her clay pieces are fired to 1260 degrees centigrade enabling them to remain outside in the garden if required.
Lyn is a Fellow of The Society of Designer Craftsmen and regularly shows with the Lincolnshire Artists' Society at the Usher Gallery in Lincoln and the Ropewalk Gallery in Barton on Humber. She has had several solo exhibitions at the Willoughby Memorial Trust Gallery in Corby Glen and the Sam Scorer Gallery in Lincoln. Her work can be commissioned.
This Exhibition will not open due to CORVID-19 restrictions
Stone, Clay and Paper Lyn Lovitt & John Crampin
Recent ceramics, lino-cuts, collages and drawings by Lyn Lovitt shown alongside stone carvings by John Crampin.