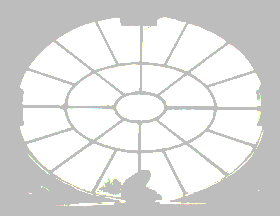 Prospero's Cave
"Spirits to enforce, Art to enchant."
Recent Art Works
(Drawings, Sculptures and Masks)
by
Stephen Jon
Stephen Jon is a Theatre Artist specializing in 'The Mask', community arts and large scale charcoal drawings. Recent drawings have been the means by which he has reflected upon his varied arts practice. His career ranges from training in ceramics at Bath Academy of Art, working as a Scenic Painter and theatre designer, and a role as community artist and educator for Nottingham Museums and Art Galleries.
Stephen has made masks for theatre for over twenty years. Masks as tools for performance, to enhance the dramatic impact, to bring focus to a character and their archetype.
He uses clay to make designs for masks, from which plaster negative moulds are made. From these moulds he usually makes casts in paper. Sometimes the casts are made in leather, fabric or in modern materials. Many of these masks are made in collaborations with designers, performers, directors and writers. The primary paradox of the mask is as an object of concealment which also reveals. "The Mask" can be seen as a distillation of the theatre experience, acting as a doorway into the realm of the imagination where the ordinary becomes extra-ordinary and where the unexpected can and will happen.
For his drawings he has used finest quality willow charcoal to draw on 'Fabriano Paper', as a technique for making visual, his reflections upon his experience as an artist. As a child of the end of Empire, his early years spent in the far east gave him isolated visual memories which later informed his choices, first as a ceramic artist then later as a theatre artist. As a child he was often dismissed as a 'day-dreamer', surely a pre-requisite for any creative thinker. His experience of ceramics gave him a fascination with edges, subsequently manifesting in the mask as 'The Face Between', in shadow puppetry and in the use of paper resists in the drawings.